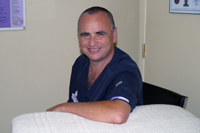 Brad Johnston has lived on the Bruce Peninsula for over 20 years. He has been very involved in the community and loves the closeness to nature.
For several years, because of his wife's health problems, Brad had gotten more and more interested in the holistic lifestyle. He developed a strong interest in complementary / alternative approaches to health.
To that end, Brad has taken responsibility for his own well-being, that of his wife and his community. Brad has a thirst for knowledge and an understanding of the complex harmony of body, mind and spirit.
He decided that he would like to follow a path that responds to people as unique. He attended the Canadian Myomassology Institute, Aromatica Centre for Natural Therapies & Holistic Study at Cape Chin on the Bruce Peninsula. He graduated in June 2009 and is a Registered Massage Practitioner. He is a certified member of the Canadian Examining Board of Health Care Practitioners as well as the Natural Health Practitioners of Canada Association.
Committed to holistic therapy, Brad goes out of his way to ensure clients have the best possible treatment.  Whether it is one modality or a combination of several techniques, Brad will tailor your treatment to your specific needs.